In Memoriam
Louis "Sonny" Cavanaugh
10 February 1939 - 14 October 2001

Some thoughts from Sonny Walker that are shared by all of Sonny Cavanaugh's shipmates
Sonny Cavanaugh was a real LAFFEY sailor.
We lovingly called him "The Prisoner" after one of his classic stories.
Sonny could sit around and tell stories as only he could. The entire crew laughed while he just sat there with his silly grin.

Our work parties wonít be the same without him.
We all shall miss his twinkling eyes and his friendly smile.
Every time I set foot on the ship I will remember and salute him.
I am a better man because I had the privilege of knowing Sonny Cavanaugh. He was an honest man and a very sincere person. He was a breath of fresh air in this era of smog.
Sonny, Iíll miss you Buddy.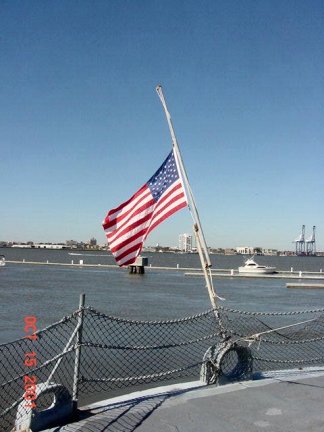 In honor of Sonny, the ship's flag was flown at half mast on October 14, 2001
This same flag was presented to his family.