HSS
In a voluntary and unprecedented act of mercy, on December 7, 2001 the Vice-President of our Association - Sonny Walker - retired from his position of President of the Edgemere Terminals in Baltimore, Maryland. He held this position - one way or another - for 7 years starting in 1994, and after serving as Vice-President for 14 years.
The business with which Sonny (Edgar, to his closest associates which obviously does not include this writer) was started by his grandfather in 1918 and was carried on by his father and 2 brothers after WWII.
To hear him talk, one would get the impression that he started out at the bottom of the corporate ladder, washing and refueling trucks, sweeping down the warehouse, making coffee for middle and upper management, running typical "go for" errands, and performing other less glamorous and menial tasks. In reality, the position of Vice-President was probably created for him because his family felt sorry for his lovely bride, Sherrie, whom he met and married on June 6, 1962.
Be that as it may, we are happy that he survived the corporate regimen. We are equally pleased to see Sonny relaxing - taking off for a round of golf, while waving to his wife as she drives off to work after preparing him a sumptuous breakfast and thinking about preparing his evening meal.
I encourage as many of you as possible to send Sonny notes of encouragement and advice. Retirement - as many of us know - has a few minuses as well as many pluses. Our unified Association cry should be:
HELP SONNY SURVIVE !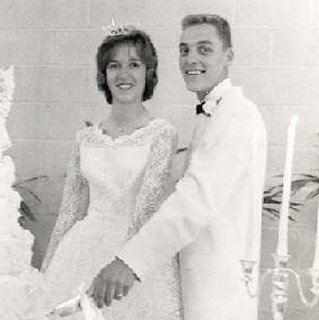 Sonny when he was at the bottom of the corporate ladder
Sonny at the top of the corporate ladder. A comparison of the fotos would seem to indicate
where all the profits went over the years. The smiling person in the background is probably some happy employee