USS Laffey Association Guest Book Entries
---
Paul T. Anderson
tincansailor@att.net

I served aboard the USS Laffey from 1956 to 1959 as an Radioman Second Class. I have a lot of fine memories from the years aboard her. I haven't seen her for about five years but hope to get there something in the future.
---
James McClafferty
jtmcclafferty@sbcglobal.net

My father William T. McClafferty, passed away on August 31, 2007 surrounded by his loving family, three days after celebrating his 64th wedding anniversary. He was on board the Laffey on April 16, 1945. If anybody has any information regarding my father, I would appreciate hearing from you. I can be reached by e-mail or my cell phone number is 661-312-3944.

Thank you,
Jim McClafferty
---
Barbara Johnson
barbiem@umich.edu

Good morning: My father was wounded, (metal from a Kamikaze plane in his throat), serving on this ship. If only he could be persuaded to enjoy a computer, but this is not the case.

He would be ever so happy to hear from your organization:

James Paul Bell 558 Front Street Northumberland, PA 17857 Phone: (570) 473-9590 ( his hearing is quite poor )
---
Nick VanHerpen
dyotnick@aol.com

Toured Patriot's Point with the boy scouts several years ago and spent 2 nights aboard the Yorktown. The highlight of my visit though was going aboard the Laffey. I spent several years on the Glennon (DD-840) which was a Gearing class but the two classes are almost identical. Looking forward to going back some other time and seeing how much more has been made available to see.
Thank you to all of those that work in her preservation.
---
Philip B. Winston
pwinston@gvtc.com

Admiral Becton was my uncle. I am the oldest son of his sister, Virginia Ann Becton (Winston). Both my brother, Julian Winston and I are Navy (Viet Nam era) vets. Julian on the Canbera and I on the Ranger. I live and San Antonio, Texas and was wondering if there was any interest in getting a Laffey memorial on the "Wall of honor" at the Nemitz Museum in Fredricksburg. Uncle Julian asked me to represent him at the dedication of a memorial of his first ship, the Aaron Ward several years before his death....we had about 16 members of ships company there for that. If there is an interest, can someone let me know?

Thanks.
Phil Winston
---
Gerry Sanders
gerry@valleyapparel.net

Served aboard USS Laffey '71-'73. I was a 3rd Class Operations Specialist (Radarman). I have been to Patriot's Point and walked through, I think it was two years ago. Quite a bit had been changed, or my memory is failing.
---
Tony Sullivan
cheyennera@roadrunner.com

The men who fought WWII were all brave and should be recognized and remembered. This generation owes them a huge debt of gratitude. I never tire of reading the stories of the valiant effort of Americans during this period.
---
John G. Eubanks
johngeubanks@bellsouth.net

I served on the USS Laffey out of Bath in 1944. We visited the Laffey there in Charleston and happy that she was not moth balled. My son and his family visited it last year with our grandson and they were very please at the care given to it. Hope to see Her again someday. My health is a factor in our getting as often as we would like.
---
Peggy Heerkens
muzika111@aol.com

My father, Karl L. Lebrecht, serviced on the USS Laffey and told many stories throughout his life to us, his children, as we grew up. We understood it to be a tremendous and life-altering experience that he and the rest of the brave men endured. I was young when listening to these stories and wish now I had been old enough to really pay attention and understand. I was under 10. I am now 48. My father carried the memories of these experiences with him throughout his life. He died at the young age of 63, from cancer, but suffered many emotional battles as well, much related to the war, I'm sure. Only days ago I watched the History Channel's Dogfights story about the USS Laffey and the kamikaze attacks. Needless to say, I was unprepared, but grateful to see it. I now own the DVD and will share it with my 9 brothers and sisters, who eagerly await. To all of you who had a history with my father, who came from Palmyra, NY, you have my heart and utmost respect. I would love to hear from anyone who belonged to that ship. God bless you all. And thank you for your service.
---
Susan Thames
susant@ttienv.com

My Father-in-Law, Franklin "Bill" Thames (1933-1999) served on the USS Laffey 1952-1956. He was born and raised in Samson, AL.

We live in southern NJ
---
Steve Stapley
staplesp2003@yahoo.com

I visited Patriots Point on 15 June, 2007 for the purpose of seeing and touring USS Yorktown. However, my visit to USS Laffey was only from the pier walkway. After reading the tour brochure of Laffeys' ordeal and superb fight I was astounded by the facts of the fight and the bravery and tenacity of her crew. Only two (2) weeks later the History Channel featured the Laffey story in its series "Dogfight". Our son is in the Navy and served aboard the USS Oldendorff, a Spruance class destroyer that is easily almost three times USS Laffey is size (weight displaced, beam and length all summed together). I will be back to Charleston soon and will tour the Laffey this time.....a true hero's ship. Please keep her preserved!
---
Dino Lehares
DLehares@aol.com

I served aboard the USS Walke DD-723 in 1945/46. I have visited the Laffey several times, but of course it doesn't look like she and the Walke looked when I was aboard. The Walke reunion was in Charleston a couple of years ago. I was an ET and when I tried to find the CIC I found out it wasn't even on the same deck as before. Some years ago I found out that one of your former shipmates, Charles Wegandt, lived in my area. I contacted Charles and we had several phone calls regarding the Laffey and Walke when we were aboard. Had planned to get together for breakfast but Charles passed away in 1999 before we got together. Read in my local paper that Charles wife Ann passed away Aug 4, 2007. Always look forward to visiting the Laffey. You have a great web site.

Dino Lehares
Caseyville Illinois
---
Elaine Nugent
Lainie121@webtv.net

Beautiful site. When we were in southeast England we visited some old frigates. It was in Plymouth. I don't remember names as it was in the 1980's. I look forward to reading your website many times. I've always lived on the east coast of the United States and saw many ships, and sailed to the Bahamas as well.
---
Will Rogers
duckywill@sbcglobal.net

I have read the book " The Ship That Wouldn't Die". I then had the honor to walk the deck of this ship. I stood on the deck and was struck by the visions in my head of the gallant crew as they fought off the planes then fought to save their home. I salute the people who stood in harms way so we can be the land of the free and the home of the brave.
---
Risa Harrington-Bacon
BACJG24@AOL.COM

I am Walter Harrington's daughter, who loves your ship as much as my dad does. I am so glad you all work on it still and take such great care of her. My sons have loved the history that she has provided through my dad's memories. I am very proud to be a part of such a huge family that you all are. My best to all.
Risa Harrington-Bacon
Hoosick, NY
---
Glen M. Mills
ferritone@hotmail.com

My dad served as a radioman on the USS Laffey DD 724. He has told me so much and taught me so much about her that I am so happy that I found the web page. My father name is John Henry Mills. I only remember that he served in the sixties. He has become very ill and has kind of went into hiding. I am trying to get as much info on his ship and career for my children and all seven of his grandchildren. These two girls, in dad's mind, are the "Toughest Old Birds" the Navy ever sent to sea. I hope I can get dad to see the 724 before he dies.
---
Fred Nardei
faafred@yahoo.com

It makes me proud to be a part of the Laffey Family. To be part of such a rich and interesting past is hard to put into words. We are so lucky to have our ship and be able to be a part of a living, breathing monument to the past. You guys are the best and I am proud to call you my friends and shipmates.
---
Cor and Spencer Toncray
sgt16@numail.org

We toured the USS Laffey during our overnight stay with the Cub Scouts on the Yorktown. Thank you for allowing this wonderful ship to be available to the people of the world. My son was more inspired by this one ship than any at Patriots Point. He now has a permanent link to this website in his "favorites".
---
Roger Baker
paulaperdue@hotmail.com

I was on the ship in 1946/47
---
Richard Arthur Michael
mizdebikakes@cox.net

Former shipmate served aboard the USS Laffey, June 1968 - November 1970. Currently living in Virginia Beach, VA.
---
Bob Hill
ebhill724@yahoo.com

While serving in the USS Samuel N Moore off Korea in December of 1950, I was transferred to the pre-commissioning crew, to help put the USS LAFFEY back in commission. This turned out to be the best break I had in my nine years of service in the USN. I served aboard until December 1953 as a BT, and thoroughly enjoyed my time aboard. Since finding out that there was a LAFFEY association, I have attended several work parties, meeting several people who served aboard at the same time.

My wife and I have attended several reunions, and also enjoyed each of them. One of them being held in my home town of Portland, Maine. What a thrill to be able to help show shipmates and their wives around in my home town. My best wishes to all who have served in the USS LAFFEY DD724.
---
Douglas R. Lipert TM3
drlipert@comcast.net

I'm glad at least one of the sumner class destroyers were saved. Will see you in late August 2007. TCS member. Thanks Doug, USS Bristol DD857 1958 to 1961
---
Bob Heller
rnjjjjh@aol.com

My family and I recently visited your ship while on vacation. I really enjoyed being on board. It brought back found memories of my Naval service aboard the USS Guadalcanal (LPH-7) which was used as a target. You are lucky to have such a great piece of history preserved for all to see. Thank you for the opportunity to visit.
---
Bruce Coburn
Paston95@aol.com

I was a radioman aboard the Laffey in the early sixties. Hello.
---
Jerry Jones
navyblue32@sc.rr.com

I served on DD and DLG and for 22 years I have been doing volunteer work on the USS Laffey, and I have had the pleasure of meeting a lot of the crew who served on the USS Laffey the crew has came to Patriots Point and spent many hours and some has spent weeks doing work on the ship, who has gotten the ship to look so good. I can remember when she first came to Patriot point she needed a lot of work and the laffey crew and other members from other ships came together to work on her. I just want to say many thanks for allowing me to be a associate member and allowing me to make so many great friends with the Laffey crew. I was sorry to hear about the passing of William Lloyd. He was a great friend and loved working on the ship. I hope yall have a great working party and a great reunion. The program on the History Channel on the Laffey showed what a great captain and crew the ship had at that time.
---
Richard Clement
rac0121@aol.com

Bless all the Heroes HEROES who served aboard this extraordinary vessel, especially off the Philippines in 1945. A truly magnificent ship!
---
Henry W. Benson
thebensons2@verizon.net

My father Henry Marshall Benson died on the Laffey in 1945.
---
Gene J. Mazza
gmmazza@comcast.com

WW II 44-45. What a great ship and crew. God Bless to all who remain.

G. Mazza
Destroyer Veteran Vietnam 1972
---
Ron Pavicic DDD
rjpav2003@yahoo.com

Looking forward to the July 13th show on the History Channel. My father, Fred Pavicic flew TBM-3 Avengers off the USS Shamrock Bay CVE-84 during the Battle of Okinawa. In September of 2006, at Squadron VC94's last reunion in Asheville, N.C., I was lucky to meet his squadron mate Carl Reiman, one of the fighter pilots from Composite Squadron VC94 that came to the USS Laffey's aid in April of 1945.
Best regards to all members of the USS Laffey's crew.
Ron Pavicic D.D.S
Kansas City
---
Edwin S. Konopka
konomges@hotmail.com

I was Discharged aboard Laffey in August 1962 as an FTM2, when she returned from a MED Cruise that year. When I was on board her, she certainly was a terrific "Little" Ship.
---
Larry Little

Served aboard the USS Rich DD 820, April 1964 - December 1967. Proud to come aboard.
---
Brian L. Perilloux
brian.perilloux@hfg-engineering.com

My dad, Louis F. Perilloux, Jr. (1923-1998), was a radar operator aboard the Laffey in the Pacific. I've heard many stories, the most memorable being those of the Kamikaze attacks. I'm planning to visit the Laffey soon. Thanks for the website.
---
Ralph Valentino
r.valentino@hotmail.com

My first tour in the Navy was on the Laffey from July, 1966 to 1968. What an adventure although at the time, chipping paint and hauling fuel lines took up most of my time.
---
Basil Tippette
tippba@aol.com

My uncle was killed in action while serving aboard the USS Evans (DD-552)on 11 May 1945
---
Ed Rombough
erombough4850@roadrunner.com

My cousin, Calvin W. Cloer's uncle, also Calvin Wesley Cloer was killed aboard the Laffey during WWII. I remember my uncle Willard Cloer telling me about his brother and his passing. He was very proud.
---
Clarence Dargie
sonny723@cox.net

I was a riveter (hot rivets) at the Bath Iron Works in Maine from January 1942 to June 1944. I heated the rivets that put the first two pieces of the Laffey together, ie, keel sections. Later I riveted shut the closing-in plates over the forward and aft fire rooms, as well as thousands of rivets in the deck and hull plates. My association with the Laffey probably goes back further than anyone alive today. I am immensely proud of the part I played in creating this gallant ship. I have visited her over the years with my children and grandchildren. Each time I had tears in my eyes. The USS Laffey... God bless her rusty soul.
---
Rick Scruggs USA Ret
scruggs2@grm.net

Great pictures and stories of two of our fighting warships and the heroic crews that manned them. A must for every veteran to see.
---
Harley Verner
pendragn652@earthlink.net

To the valiant seamen who have had the honor to serve aboard such a proud ship as this, who in the course of their term of service gave of their blood, sweat, and tears, I want to say thank you. The long hours you have stood at your post until properly relieved is in keeping with highest of ideals. It makes me proud to have served in the US military knowing that the men and women of the USS LAFFEY were right there ensuring someone's freedom. God bless you and keep you safe in the years ahead... HV
---
Michael Peluso
mikepeluso49@yahoo.com

Served from June 1970 to April 1972.
---
Doug Bright
linkflt@yahoo.com

Served aboard USS Laws, DD 558, 1944-1946. Long ago, far away retired from NASA 1991. Just celebrated 81st birthday; my retirement years, stay home take care of family; wife can't travel, unable to make any Navy reunions, etc.
---
Richard Reinstein
plasticman2000@verizon.net

I was a member of the USS DREW APA 162 and remember well the liberty I enjoyed on Mog Mog. Also remember the "pen" we were herded into when we were to get back to the ship after finishing our 3.2 warm beer.
---
Don Baker
tdbaker65@comcast.net

I met Jim Townsley briefly in the 1990's and more extensively at his home a few years before his death. His daughter Mary and I were great friends for many years and he graciously invited me into his home. Our conversations were fun, intense, and thoroughly enjoyable. He showed me the history of the Laffey, with special attention to the Battle of Okinawa and the Kamikaze attacks. I only found out through his daughter that he had won the Silver Star that terrible day of 16 April. He was a very special man by any measure.
---
Shelley Sedgwick

Thank you for creating and/or maintaining this web site. My grandfather was a crewman on the USS Laffey. He was very proud of his country and was honored to fight for our freedom. His name was Steve Waite. He died in 1999, but I do remember him telling us stories about the ship. He always had a large photo of the Laffey in his T.V. room. He took my brother to one of the reunions about 25 years ago. I am glad to see that the reunions are continuing.

Grandpa Steve died in 1999 from a heart attack. He was over 80 years old. My Grandma Inga is still alive (92 years old). His funeral was nice. He was buried in his sailors suit. He would have wanted it that way. The navy meant a lot to my grandpa.
Happy Memorial Day Weekend!!! We will never forget those who fought for our freedom.

Shelley Sedgwick

---
Patrick W. Mercer
pmercer@dejazzd.com

Youngest Son of Garth E. Mercer, Jr. A proud "Tin Can Sailor" who served from 02/19/46-12/09/47. Dad died on 01/06/07. I hope to take my family to see the USS Laffey sometime soon.
---
Calvin L. Bowen
C2bow@aol.com

I was a fire control man on the Laffey from March 1946 until we decommissioned her at the destroyer base in San Diego 36 California in late 1947... I was the range finder operator in the mk 37 gun director. We were present at operation crossroads and afterwards we stayed in the area checking the migration of radioactivity in the ocean following the bomb tests...We then went to hunters point in San Francisco in October 1946 for yard overhaul and the removal of the radio active barnacles from the bottom of the ship. I would like to see my ship again sometime...
---
Pat L. (Campbell) Dew
chief@arvig.net

My Dad, Robert L. Campbell, served aboard the USS Laffey during WWII.
---
Walter S. Howell
howellwshh@aol.com

I served aboard the Laffey: Jan. '58 thru Oct. '58 as an Rd2
---
Dave Curtin
sonny7322@aol.com

I served from 1943 to 1946 I was a Radarman 2nd class and I was on the ship on April 16th 1945. I just made a trip to the Laffey in March 2007- brought back a lot of memories. A big hello to any of my shipmates who might see this.
---
Paul Wright
pwright@transmed1.com

I just completed the book, The Ship That Would Not Die. It took me longer than it should have to read because of the mist in my eyes and the lumps in my throat. What gallant, brave men who served aboard the USS Laffey. I have been aboard her many times at Patriot's Point. I shall never walk her decks again without thinking of what her brave crew did for me in preserving liberty. God bless you all!
---
Jan Berry
fleetlsa@btinternet.com

If there was ever a vessel that fought the good fight and survived, it was LAFFEY. Gentlemen. I salute you all, in all due respect,
admiration and humility. BZ.
Jan Berry,
Ex Royal Navy, 1961-1979
---
Jim Spriggs
OJandLL@aol.com

Served on Laffey DD 724 From 2-8-44 to 3-20-46 and was an MM 3/C and my duty station was the after engine room.
I am very proud to have served aboard the Laffey during WW II.
---
Dave Stange
Satdiver100@yahoo.com

My first & finest assignment. April '70 to May '72
---
Stacey Accetta
sja73088@aol.com
My dad served on the USS Laffey in 1946. He often spoke of the "A" bomb testing. I came across this website by accident but was
thrilled to see all the information on the USS Laffey. I would love to hear from anyone who knew my dad, Wilford R. Lewis.
Thank you to all who served!!!
---
Jerry Jones
navyblue32@earthlink.net

I wish that a lot more people could read that letter that the man wrote who was stationed on DD 459 the night she sunk. Thank the lord that we have a country we have because of men and women who gave their life to keep us free.

---
27 February 2007
John Adams
johnadams2020@msn.com
I'm the son of William (Bill) Adams. My father has passed away and spoke of his days on the Laffey in WW II. He worked in the boiler room. Please contact me with any information about him or his friends from those days.
---
13 February 2007
Andrew R. Bush Jr.
DAB123@COMCAST.NET

I served as a fireman in the #2 boiler room on the Laffey from 1963 until 1966. I took the midshipmen cruise to the Med in 1964, I think it was 1964. Time gets away! Many times on our way to Florida, we have meant to stop by, but as of yet, we haven't. From what I see, she still looks great and ready for duty. All the best to those who support to the upkeep of the Laffey.
---
10 February 2007
Zelma Schulte
Lavern Hazen is a young man who lost his life on April 16, 1945. His sister is Zelma Schulte. She would like to know if anyone of the remaining WWII crew has a picture of him together with any of his shipmates. If someone, by chance has one, to contact Sonny Walker at soncher724@comcast.net or telephone him at: (410) 515-3223. Many Thanks.
---
03 February 2007
Janet Brillante
janetjoe@optonline.net

I am hoping that someone that visits this great site will have served with my father Thomas Zingarella between Feb. 8, 1944 and August 10, 1944. He was serving on the USS Laffey 724 at D-Day. His rate was SM3c, Slc USN. I would love to hear from any crewmates that were there at that time. He kept a diary of the invasion that ends on June 9, 1944, where he mentions many of the other ships but no names of his fellow shipmates.
---
01 February 2007
Jo Kinchington
jo.kinchington@usarec.army.mil

I have had an interest in the Laffey for several years now. About 15 years ago I was lucky enough to be given a print of the USS Laffey by the widow of Frank Kodman, who I believe was aboard the Laffey during the famed attack. If memory serves, he was a medic at the time. After he passed away his wife, Eleoner gave the print to me. I initally hung it in my office, and working around personnel from all services several Navy personnel had occasion to see it and always commented. I have since been able to get a postcard of the Laffey, and oddly, prior to when the print was given to me I was able to tour the Laffey while enroute to Germany from Charleston.
Glad to see the site here!

---
28 January 2007
Hubert "Bud" White
hvw2@suddenlink.net

It is with great pleasure to look over the pictures on this site and read with greater pleasure some of the things about the ship and tales that one your friends relays almost every morning. I have breakfast almost every morning during the week with a man named LON WILSON.

Bud White
---
27 January 2007
Charles Tyzzer, Jr.
T2: tyzzerc@iquest.net
Crew member (ET) June 1962 until March 1963.
---
7 January 2007
Doug Bright
linkflt@yahoo.com

Served aboard U.S.S.Laws,DD558 eighteen months ;operated with TF 38,TF 58,etc.,was serving on"pickett duty" when the Laffey hit w/12(?) Kamikazes.Our crew of 329 have had reunions these many years,of 329 sailors,30 or so remain.Crew that served Korean conflict,many still able to make"Laws"reunions.All this long ago,far away.

Am active couple days,few hours a month Space Center Houston(NASA),
A few Destoyer reunions vist JSC,should I be available,us old salts
reminisce...will be 81 years old soon,The LORD has been good to me.
---
4 January 2007
Dr. Ron Pavicic
drronpav@yahoo.com
---
3 January 2007
Fred Langford
frl2657@comcast.net

I spent about a week at Ulithi aboard the USS Kenmore in April 1945 on my way to Okinawa. This site is very informative on Ulithi's role in the war there. Thank you for this great information!
---
31 December 2006
Robert Klimesh
yeeha1@iowatelecom.net

Crew member: Dec. 1952- Aug. 1955
EMP3
---
24 December 2006
Fred Gemmell
rustbucketfarms@yahoo.com

I served on the USS Laffey during the Okinawa campaign. Started with the Philippines and finished at the end of the war in Seattle.
---
20 December 2006
David B Sheets
dank@winco.net

I am the nephew of J. (Jerry) B. Sheets. I was born (3-12-45)about a month before he was killed (4-16-45).

I visited Patriot's Point in the summer of 2005. It was very enlightening.....to say the least.

Thanks Ari......for all your work.

DBS
---
19 December 2006
Wayne Dorough
dorwgd@cox.net
I was browsing for images of Ulithia Atoll and came across your website. It's great! You have some wonderful photos. I'm the webmaster for the USS Spangler DE-696 website (ussspangler.com), so I appreciate the time and effort it takes to put a site like this together. Thank you for making it available. I enjoyed my visit!
---
12 November 2006
Charles Poehner
cepsr26@yahoo.com

I was the guncrew messman in 1945 when the tanker Esso Paterson, out of San Pedro delivered two loads of fuel to the Navy ships anchored in Ulithi. The second load was obtained in Abadan, Iran. The battle for the Philippines was being planned at the time. We eluded a submarine attack with welcome help of some Navy destroyer escorts who depth charged it.
---
8 November 2006
Jürg Kürsener
jkuersener@bluewin.ch

Hallo everybody, kind regards from a Swiss.

As a navy enthusiasts and as a very young fellow (still a high school student at that time) I had the unique privilege to be aboard USS Laffey during its 1966 deployment to the Med. I spent a few days aboard USS Indepdendence (CVA-62) and was then flown to the Laffey where I stayed overnight (in the Captains cabin). It was in July 1966. Soon after, USS Independence arrived at Naples for a port visit. My host officer aboard CVA-22 was Lt Hardy Carl, who flew F-4Bs with VF-41, with whom - by the way - I am still in contact (he was a guest at my home in Switzerland).

I still like to remmeber these unique hours. I wrote an article for Swiss newspapers and military magazines afterwards. Today I am still an active officer (Colonel) in the Swiss Armed Forces and I am still writing - as a freelancer - naval articles for different publications.

I am still interested to make more at sea visits to US naval units - it has however become much more difficult (since 9-11) to get those permissions. I regret that very often even my letters are not answered. That was different in the 60s, 70s, and 80s.

Kind regards to you all

Jürg

Jürg Kürsener
Sonnenbergstrasse 14
CH-4573 Lohn
Switzerland
---
1 November 2006
Naomi Coccoli

Hi,
I am Don Watson's sister. He is here in NJ visiting with my husband, Joe and me. I wanted to see what is available in your store to order as I would be proud to wear something from the famous USS Laffey 724. I was about 13 years old when my parents took me and my sister to see Don in Norfolk. Anyway, it was fascinating to see all the wonderful pictures and I just loved the surprise birthday party for your captain. You guys rock!!
---
1 October 2006
Rodney B.

My grandpa Steve Waite was there on April 16th 1945. I am very thankful and proud of his service. Working in the engine room he was trapped below deck as a result of the comma-kazeez hitting. He almost died but was saved and rescued by his shipmates. Becton comments on his rescue in the book "The Ship That would not die".
I met Admiral Becton back in 1984 when I was 10 years old at the Laffey Reunion. Also got to sleep in the Yorktown's bunkbeds with my grandpa. His wife, my grandma, Inga, I am very close to. She is now 91 years. I visit her about once per week. Grandpa Steve passed away in 1999. He often talked about the Laffey. Now I am 32, and appreciate the Laffey more now and have reading about the Laffey on the internet.

brod360@comcast.net
---
14 September 2006
D.L. Bomar

Great website. Was the USS Laffey ever decommissioned? Thanks for the website,

D.L. Bomar
Acoustic Analyst
Applied Research Labs
Austin TX

bomar@arlut.utexas.edu
---
1 September 2006
George Little

I served aboard the Laffey From late 1945 till she she was put out to pasture in San Deigo Ca in 1947 & stayed on to help put other ships down-I left in 1948--I was in the 2nd divison under Boats First Class Moates-Capt Waters was our skipper-I have only run across one who I knew at that time-Garhold,Mel most of the crew just called me "Little "the tall dude from Tennessee-I would love to hear from any laffey crew member-Please email or call 904.964.8591-
"Little" from Tennessee--Aug31,2006 Starke Florida 32091
1002 Palm Street
---
23 August 2006
Scott Forsha

My father, Donald Gould Forsha was a sonarman aboard DD-724 during Korea. I proudly display a picture of the Laffey in my home. Thank you so much for remembering and honoring those like my father who served valiantly for our country in the United States Navy.
s4sha@houston.rr.com
---
21 August 2006
Steve Appleton

My Uncle Bill (William Muskivitch – Seaman 1st.) served aboard the Laffey during the action of 4-16-1945. He couldn't talk to me or anyone else for that matter, about what he lived through that day. After reading about it on your website, I can certainly understand why a lot better. Thanks for putting this together as it really helps those who weren't there put it in perspective. God bless all of you.
---
8 August 2006
José A. Amorós
My son and I just visited the Laffey this summer and were moved by its heroic history. In fact I briefly mentioned it in the newsletter of the Michigan Company of Military Historians and Collectors in the current August issue. But I will use the infomation and photos from your website for an extended article on this gallant ship and its crewon the next issue. Thank you to all who served and eternal peace to those who paid the ultimate sacrifice.

José A. Amorós
Adjutant,Michigan Company of Military Historians and Collector
---
5 August 2006
THOMAS

I really like what I have seen sofar. I was in the 82nd airborne div. March 10/1942. Discharged September 1945. I will be 88 years of age on September 6th. this year. That was the date I left France headed to Boston.
---
29 July 2006
Robert M Parsley

I am the nephew (Paul was my brother's brother)of Paul Spaulding who served aboard the 459 (a torpedoman's mate I believe)and perished the night of November 13, 1942. I remember him among my earliest memories. I have seen the memorial to those who perished on the 459 as I visted the 724 at Patriot's Point, SC. I am constantly humbled by the brave people (living and dead)who fought then to protect our nation, and constantly saddened by others of this day who have so much to enjoy and are willing to turn away from defending it again. Libery must be defended again and again, for one true loss is for ever. God Bless.
---
22 July 2006
Jake Strohman,FTG2

Served on the USS Laffey 1962-1964. Obtained a degree in Civil Engineering from the UW and have lived in Wyoming all my life. I have to thank the Navy and college football for my education. Married to Marjorie Alice in September 1966. She is a retired school teacher. We have one son who is a professional golfer in Texas.

stroh_1@bresnan.net
---
14 July 2006
Dale M. Prince

July the 6th I visited the Laffey for the third year in a row. Each time I visit the Laffey it is a very emotional visit as I served on a Sumner Class Destroyer the USS Strong DD-758 70-71. Much to my surprise Mr. Walker and Mr. Hudak were visiting Charleston at this time. I would like to thank them both for their hospitality and generosity in taking the time to show myself and family around the Laffey, and yes the ceiling and entire Ship looks great, my young granddaughters are still talking about their visit. I said all the above to say this, Mr. Walker and Mr. Hudak you are wonderful people and thanks for serving then and thanks for serving now.
---
13 July 2006
Ray Broll

"A MAN OF HIS WORD."
Way back in April 2006, during the work party, several participants were driven to depression. This was due to the fact that we had a raw, but insulated overhead in the Chief' Mess.
It's said that some even took to drink. (Maybe more than one).
But, the Man said, "I'll have the new dropped ceiling done in June".
WOW! Look at the Mini Work Party Pictures!!! It looks great.
WAY TO GO, JOHN!!!!!!!!!!!

raymarb2@verizon.net
---
9 July 2006
John Shepler

I served aboard the USS Laffey from January 1966 to January 1967. I was in the First Division as a "deck ape" and made a Med Cruise during that time. I can honestly say, my tour on the Laffey was a memorable one! I met a lot of colorful characters.
In 1997 I transferred into the Navy Seabees and did a tour in Viet Nam.

jeshep@hotmail.com
---
28 June 2006
John A. Davidson

Served in Laffey as Communications Officer March 66 to Feb 68.
john_davidson@urmc.rochester.edu
---
30 May 2006
Duke Hale

My father Thomas H. Hale served on the ship during WW II and the Bikini Bomb tests. He died of a rare form of cancer at age 55 in 1983...some of the Dr's said he may have had something to do with exposure to radiation. More importantly, I wanted to see if any of his friends on the ship remember my dad, and what memories they could share with me? He would have been on the ship in the '43-'46 period I believe.

Best Regards,

duke.hale@comcast.net
---
30 May 2006
John Young

MY neighbor is a lady of 75 years of age, and apparently her mother was related in some way to the person after which these ships are named, so I was interested in the history of the ship?s?, evidently her mother was invited to visit, when the ship was in AUSTRALIA, probably in the fourties I guess.they certainly seem to be ships of a proud history, thank you for you're past. Regards JOHN
john.young@australiaonline.com.au
---
23 May 2006
Herbet R. Suydam SM3

Served on the Laffey from 1970-1972.
---
16 May 2006
Don Illingworth

Everyone connected with the association is doing a great job. Thank you. Enjoyed the reunion in Tennessee and looking forward to Patriot's Point once again.
---
13 May 2006
D. Frederick Holt
Jack Bible served on the USS Laffey in Korea. He is/was my father-in-law. I am just trying to familiarize myself with his ship and see if I can learn anything about Jack that my wife would appreciate.

holt.dan@con-way.com
---
12 May 2006
Jeff Parino

Hello all, my grandfather was on the laffey DD724 feb 8th 1944
his name was Frank f Parino MM2c i am looking for any info ,photos of him ,he has since past away and did not like to talk about his time on the ship,any info would be great thanks and god bless

jeffparino@yahoo.com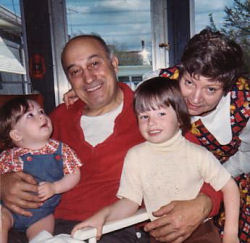 Frank Parino holding his 2 beautiful grandchildren, together with his wife
---
11 May 2006
L. McKagan

Our father, Challen (Bub, Mac) McCune, served on the Laffey during World War 2. He was an officier and survived the attacks from the Japanese in the Pacific - April 16, 1945. Dad is now 87 years old and living in Seattle. We have some paperwork, newspaper clippings, pictures, etc., that we would like to donate to an organization that would appreciate them. If anyone knew our dad, or can help us find a home for these items, please contact us.

mckaganl@comcast.net
---
8 May 2006
Ted Stouder

I served on the Laffey from '69 to '72 as a BT3
---
8 May 2006
Lorie Cox

My father in law served on the uss Laffey dd 724 from the years 1969-1972. His name is Harlan Cox. Any one who served with him He would like to hear from you.

loriegreensburg@aol.com
---
27 April 2006
Katie Radder
I am visiting this website, because my Grandpa, Owen Glen Radder, served aboard the USS Laffey. It is amazing to be able to see the pictures of his crew members and read the poems and articles written by and about these amazing men. Thank you to all of you. I love you Grandpa!!
---
20 April 2006
Jon LaCore

My Grandpa (Pete) served with you guys and now I am serving in the army in Iraq. Its cool to see you guys are still getting together!

laco0032@hotmail.com
---
19 April 2006
Cary Webb Hank Sears

My father was William E. Hank, skipper of DD 459. We just returned from a trip to Iron Bottom where I through directly over the remains of the Laffey. One of our shipmates was a survivor of the USS Monsson, the ship directly behind the Laffey on Nov 12-13.
I would like to know if there are any survivors of the first Laffey.
---
19 April 2006
Kevin Wayne Cavanaugh
IF THERE IS ANY ONE THAT HAS ANY PICTURES OF SONNY CAVANAUGH I WOULD REALLY LIKE IT IF YOU WOULD E-MAIL THEM TO ME (HIS GRANDSON) AT VEHICLE4YOU@AOL.COM THANK YOU SO MUCH !!!!!!
---
18 April 2006
Herbert RED Lowe

I would like for the association members to know what a great job they are doing. In 2004 i got to see our ship and visit with john hudak. I never served with john but it made no difference to him i was a former crew member and he treated me and my wife with great hospitality and i enjoyed hearing old salt tales. If my health improves i intend to make a work crew and more than anything aggravate the hell out of pete lacore my old buddy and who knows maybe some of the guys will forget some of the meals i cooked and let me have another try. Again thanks to all for preserving history for our younger generation
---
16 April 2006
Perry Cohen

I recommisioned Laffey in December of 1950 in San Diego. Sailed with her on her trip through the Panam Canal to Norfolk when Laffey went into the shipyard. I was a deck-ape, "Spud Cox'n & Salad King" and a very happy RMSN when I got "shanghaied" off Laffey to duty on another tin-can. But while I was aboard I made some wonderful and life-long friends.

Years later Laffey and I met again when I saw the TV story on "Real People." I am so happy to be back as part of the crew of "The Ship That Would Not Die," and part of the association that will not let her die.
---
13 April 2006
Glen Radder GM3rd class
I was aboard the Laffey before she was commissioned in Feb.44 until the final wrap-up of Tojo. After going to Europe for "D" Day and going to the Pacific
in the final chapter of our fight for freedom at Okinawa. There is no way to explain the feelings developed toward your shipmates. Somewhat of these feelings are extended to our present group of shipmates who are keeping the Laffey legend alive. My thanks to all involved which deserves a good Navy "Well Done"
---
13 April 2006
BTCM RET STEVE SWEET

SERVED ON THE 724 IN 1966,WAS REAL IMPRESSED WITH THE FORMER CREW MEMBERS AND WHAT THEY ACCOMPLISHED IN 1945,I WAS PROUD TO BE A CREW MEMBER AND THE 724 MADE THE DECISION FOR ME TO STAY WITH THE USN.
SMOOTH SAILING SHIPMATES.
---
2 April 2006
Don Parnell

On 04-02-06, my wife and I had the immense pleasure to not only visit the Laffey, but we were also fortunate enough to meet one of the ships former Crew member's, Oliver J.(Jim) Spriggs. We were able to speak with him in depth and hear first hand, some of the remarkable history of "the ship that would not die", and it's heroic crew! We spent about two hours with Mr. Spriggs, touring the ship, and seeing and hearing things that few people ever get to! This was a real treat for us (especially myself)! To be able to not only see a peice of our country's military history, but to be given a tour through that history by one of the men who was there is something, unfortunately,that very few people get to do, and I for one will treasure the experience, and time that we got to spend with with Mr.Spriggs! My wife Angela and I would like to thank all those who served on and are still serving on the USS Laffey, and especially Mr.Spriggs for taking time to share some of his memories with us!

VIDALIACOP@sc.rr.com
---
27 March 2006
Fred Nardei

Sonny Walker is the best. The time and energy that he devotes to the USS Laffey Association is appreciated by me and all of his shipmates. Thank You Sonny

faafred@yahoo.com
---
22 March 2006
Aaron Webb

i think lurning about the history of the laffy is a good rthing for the young kids to do and i know i liked to lurn about the ship and i am going to say thank you for frighting for my freedom and every one eles to and i would like to think my best friend frank laskowski for showing me this web sit and i love u guys

moto4kid1989@aol.com
---
21 March 2006
Gerald Hannah MSC, Ret.

On behalf of the USS Orleck DD-886 I would like to thank you for your donation. There is a lot going on with the Orleck right now, but she has been in tighter spots and will pass through this one. again thanks. Gerald Hannah Orleck Sailor
---
2 March 2006
Ben Kessel

Im The Great Nephew Of Philip Zupon, Gunners Mate 1/c. He was from Cayuga, North Dakota Philip was severely injured on 16 April 1945.
So sorry if anyone try contact us we changed email severs and we forgot email you all the change.

quietwolf30@yahoo.com
---
26 February 2006
Gary A. Leitz

I served aboard The Laffey from 1970 - 1974 as an FTG3.
My GQ station was the pointer and trigger man in the Director.
My undeway station was after steering.

galeitz@fuse.net
---
26 February 2006
Stephen M. Hanyok

I was in the SONAR gang (STG2) from about 1971 to 1973.
stevesue4@juno.com
---
24 February 2006
Jim Rick
My father, Herb Rick, served on the Laffey from approximately 1943 - 1945. He passed away in 1998; if anyone knew him from this time, I would appreciate hearing from you.
---
22 February 2006
George Taylor
Ari, the seamanship demonstrated by the Laffey's Officers and Men was of the highest order, their efforts are indeed to be praised in this incident. I was an Engineer with the BI and we were in the Australian Bight when the news came through about Dara, a very Dark moment in the history of a proud Company. There was a book written about the Dara incident called "Last Hours on Dara" by P.J. Abraham who sets out the incident and the aftermath in great detail. There is also a website for the BI,
www.biship.com
Many thanks for a most interesting website. George Taylor
Webmaster Note: This is a nice compliment to the men and officers who were on board at the time. They included our President, Sonny Walker and John Hudak. John was awarded a commendation for his efforts in attempting to save this ship (SS Dara).
---
22 February 2006
Rick Pitz

My father served aboard the Laffey, but I am not sure when. His records are not complete. i believe he was on her during the d-day invasion, but left shortly after that (he did not go to the pacific with her). I believe he was a SM2 at the time. If anyone knew him, please contact me.
Rick Pitz

rick@svn.net
---
22 February 2006
Woody Gedusky

I served on the Laffey as a shipfitter from 1953 to 1955, and helped keep the old girl running, I still continue to help in keeping her up at our work parties some fifty years later. It is wonderful to have all the great memories of my time on the Laffey, and all the guys I sailed with.
---
21 February 2006
David Powell

My father is a former crewman and was on board 16 April 1945.
I joined the Navy myself right out of high school. Was a radarman aboard the USS Enterprise CVAN65, from May 1968 to April 1971. In 1970 I got to visit the Laffey, I enjoyed the opportunity to visit the ship my father was on. I enjoy your website and visit it often.

pwldvd@baldwin-telecom.net
---

21 February 2006
Aristides "Ari" Phoutrides
One of the few remaining plank owners, and a survivor of the action on April 16, 1945. I am proud to have been a part of the World War II crew. Equally important, I am proud to be a part of a group from all crews of the Laffey who are dedicating their efforts in maintaining this ship. I consider it an honor and privilege to work with all of you and with others who may not have served on this ship, but nevertheless extend their help to her.
---
20 February 2006
Sonny Walker

I served on the USS Laffey from 1960-1963. I was 17 when I came aboard. I didn't appreciate the history of the ship until I joined the Laffey Association and met the heroes that saved her from the Kamikazes. I am proud to be president of this organization and to know and love all of the different crews from the Plank Owners to the decom crew.

---
19 February 2006
Jerry Jones

I was not stationed on the USS Laffey - I was on the James C. Owens (DD 776). I have been doing volunteer work on her since she has been at Patriots Point. I want to thank theLaffey Association for allowing me to be an associate member of this great association
---
18 February 2006
Joe Folino

I am doubly proud to say that I served aboard the US LAFFEY DD-724 on two separate occasions. I was proud to have served aboard after the Bikini "A" Bomb test and had the privilege of putting her out of commission in 1947. (One of the last "button her up") In '48 when I returned home, I thought I had seen the last of her. However when the U.S. Navy decided to put her back in commission .... it also decided to do it with my help.
I served another 3 years on the gallant ship from San Diego to Wonsan... and back, as Ships Barber, Laundryman, Cook. Baker, "Jack O' the Dust" and every capacity in between.
Nothing I have ever done can compare with duty served and the Shipmates shared during those years. A remarkable record of achievements I wouldn't trade for anything. The years that followed within the Association provide a Legacy of accomplishments unequaled in Naval history. I am extremely proud of what we represent.
I love my Country... My Flag.... My Ship... and each of my Shipmates.
God Bless you, one and all.
---
18 February 2006
Pete Lacore

I served on the Laffey from 1951 to 1955. We made two world cruises while I was aboard. The first one being after our tour of duty in North Korea. Something that I'm proud of. I'm so proud of all the sailors that served on this great ship, and especially those who were aboard on April 16th, 1945. They are my hero's.