Photographs from the Album of
Joe Folino
These photographs are from the album of Joe Folino who served on board the USS Laffey during the Korean Emergency.
In Joe's words....
"They represent a special time and I thought it might be nice to share some of the pleasant memories from that time.
Prior to the Laffey heading for Korea in 1951, the Commodore of Squadron 26, Captain William Whitside, using some "political influence" managed to get our Squadron three days in Acapulco, Mexico. We had the honor of being the first naval vessel in that harbor in over thirty years. It was quite an exciting time for most of us and needless to say, we made the most of it.
Even though Acapulco was not the glamorous resort it is today, it was nevertheless, quite impressive. Unfortunately, the civilians who were there at the time did not take to us (the Navy) taking over the entire town. As soon as we showed up at the pool, most of the other guests left and we virtually had the place to ourselves.
The hotel at the time was the Reforma Casablanca...high above the city overlooking the bay. It is now the site of the exclusive Princess Hotel Resort."
To his comments, I can add only my own...."Yes, war was hell!" and "Joe, are you sure this wasn't the Italian Navy?"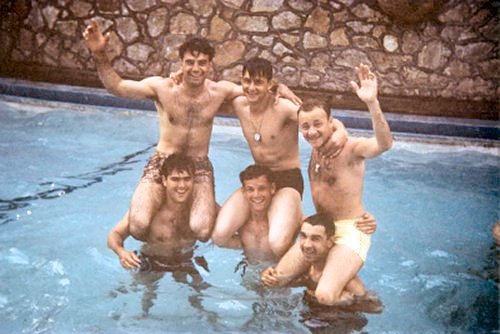 May 12, 1951. Acapulco, Mexico
Top row left to right: Joe Nardizzi, Jack Hill, Joe Folino
Bottom row left to right: Joe Calise, Ralph Doll, Joe Valerio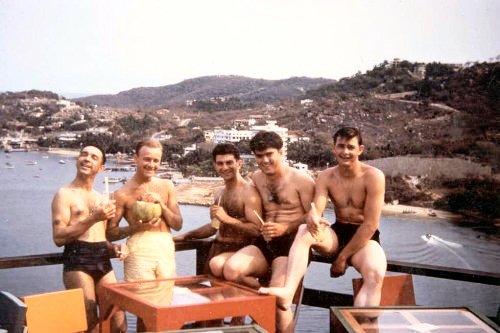 May 12, 1951. Acapulco, Mexico
Left to right: Joe Valerio, Joe Folino, Nick Giordano, Joe Calise, Jack Hill
Notice the lack of "population" on the surrounding hills then...today it's a honeycomb of buildings.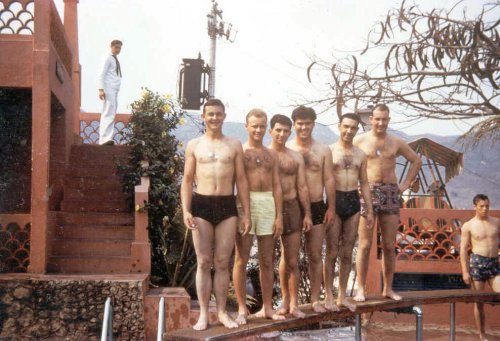 On the diving board of the hotel pool.
Left to right: Jack Hill, Joe Folino, Nick Giordano, Joe Calise, Joe Valerio, H. Cox