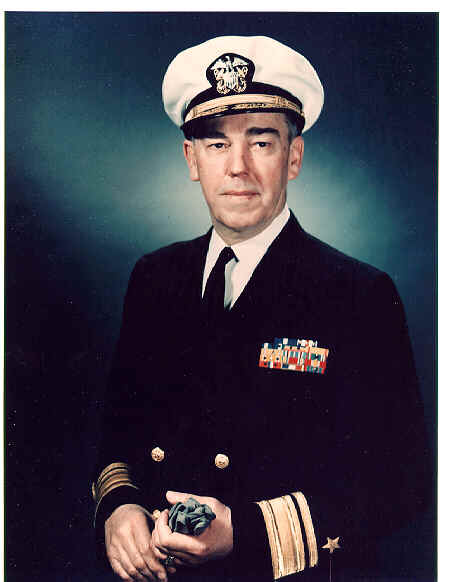 Rear Admiral Frederick Julian Becton
, USN
A native of Des Arc, Arkansas, Admiral Becton entered the Naval Academy in 1927 and was graduated and commissioned Ensign on June 4, 1931. Early in his Naval career he served in the battleships TEXAS and ARKANSAS, the destroyers PRESTON and BRECKENRIDGE, and from August 1935 until January 1938 on Asiatic Station, as Engineering Officer of the gunboat GUAM and destroyer POPE. He returned to the Naval Academy in June 1938, and while on duty as an instructor in the Department of Marine Engineering made the Midshipmen's cruise in 1939 on board the TEXAS.
He was serving as Executive Officer of the destroyer AARON WARD at the outbreak of World War II, and later served as her Commanding Officer prior to her sinking following a Japanese air attack in the Guadalcanal Tulage Area on April 7, 1943. In May he became Operations Officer on the Staff of Commander Destroyer Squadron 21, attached to the flagship NICHOLAS, which won the Presidential Unit Citation for outstanding performance on the night of July 5-6, 1943. He was personally awarded the Silver Star Medal and a Letter of Commendation from Commander South Pacific Force.
At her commissioning on February 8, 1944, he assumed command of the USS LAFFEY, and for meritorious performance as that destroyer's Commanding Officer during the amphibious assault on Normandy and bombardment of Cherbourg, France, was awarded a Gold Star in lieu of the second Silver Medal, and the French Croix de Guerre with Star. Transferring to the Pacific area, the LAFFEY won the presidential Unit Citation, and he was personally awarded the Navy Cross and Gold Stars in lieu of the third and fourth Silver Star Medals. Prior to the cessation of hostilities he was ordered to the Navy Department and on August 12, 1945 , reported to the Training Activity of the Bureau of Naval Personnel, serving in 1946 as Office in Charge of the Enlisted Training Section.
He completed the Personnel Administration and Training course at Northwestern University in June 1948, and after duty as Executive Officer of the cruiser MANCHESTER, September 1948 to April 1949, had fifteen month's duty as Commander Destroyer Division 202, his pennant in the USS A. M. SUMNER. He again served in the Bureau of Naval Personnel, and after brief instruction in 1952, commanded the USS GLYNN, a transport, for two years. He competed a tour of duty in the Office of Chief of Naval Operations as Assistant to the Director of the Surface-Type Warfare Division and Head of the Combined and Joint Training, and under orders of September 20, 1956, commanded the battleship IOWA.
Assigned to the Navy Department in 1958, he was Director of the Enlisted Personnel Division, Bureau of Naval Personnel and later had instruction in the Office of the Chief of Naval Operations. He next served as Executive Officer to the Personnel Directorate, Joint Staff, Joint Chiefs of Staff, Washington, D.C.
In September 1959 he became Commander Cruiser Division FIVE, and in July 1960 was assigned additional duty as Commander Mine Force, Pacific Fleet. A Month later he relinquished command of Cruiser Division FIVE, continuing to command Mine Force, Pacific Fleet and from September 30, 1960 had additional duty as Commander Naval Base, Los Angeles, California. In October 1964 he reported as Commander Naval Reserve Training Command, Omaha, Nebraska